The Trump administration is poised to further escalate its trade war with China, as U.S. stock futures wipe out Tuesday's gains on the news. And Tesla makes a big splash in Shanghai. Here are some of the things people in markets are talking about.
Trump Set to Target Tariffs on $200 Billion of Chinese Goods
President Donald Trump is preparing to release a list of an additional $200 billion in Chinese products to be hit with tariffs, according to two people familiar with the matter. The list could be released as soon as Tuesday, and likely this week, according to the people, who spoke on condition of anonymity because the matter isn't public. The publication of the list starts a weeks-long process that includes a public-comment period and hearings. The Trump administration on July 6 imposed 25 percent duties on $34 billion in Chinese imports, the first time the president has implemented tariffs directly on Beijing after threatening to do so for months. China immediately retaliated with duties on the same value of U.S. goods, including soybeans and cars.
Stock Futures Erase Gains, Havens Bid
The calm financial markets have enjoyed so far this this week looks to be a thing of the past as U.S. stocks futures erased gains on the tariff news. A perceived lull in the spat had allowed the S&P 500 to rally for a fourth day Tuesday as investors shifted their focus to the start of earnings season. But it was seemingly only a matter of time before trade concerns surfaced once again. Long-end U.S. Treasuries and the yen erased losses as investors sought out havens amid concerns the release of the list will mark a rapid escalation of the trade war between the world's two biggest economies. Investors should expect China to quickly announce counter-measures once the list is officially released.
Tesla Makes a Splash in Shanghai
Tesla Inc. reached a preliminary agreement with the Shanghai government to build a factory that will rival production from its lone U.S. assembly plant, as Elon Musk takes his biggest step yet to expand overseas. Construction will begin soon after securing needed permits and the plant will produce 500,000 electric vehicles annually for Chinese consumers in two to three years, a Tesla spokesman said in an email. Yet amid the fervor of the announcement, the absence of details on how much the ambitious undertaking will cost is turning heads among analysts and investorsstateside. The Musk-led company had just $2.7 billion in cash at the end of the first quarter. Tesla has been burning through billions of dollars as it's struggled to ramp up manufacturing of the Model 3 sedan.
Japan Is Embracing 'Buy American'
While there's little prospect that Japanese consumers will ever buy enough American cars to please Donald Trump, the Abe government's record spending on defense is shaping up as a bright spot in bilateral trade for the U.S. president. Japan's purchases through the U.S. Foreign Military Sales program represent 16 percent of all non-personnel costs for the nation's self defense forces so far this year, more than double the level in 2014, according to calculations by Bloomberg based on government data. Plans to buy advanced American radars, stealth fighter jets and missile-defense systems in coming years will mean billions of dollars for U.S. weapons makers. Japanese companies, already struggling to compete, don't stand to benefit as much because economies of scale have made homegrown technology more expensive and Prime Minister Shinzo Abe's government wants to get more bang for its buck.
1MDB, the Ponzi Scheme
Malaysia's 1MDB economic development fund was used as a Ponzi scheme by a clutch of conspirators to pay bribes and enrich themselves, Switzerland's top prosecutor said days after former Malaysian Prime Minister Najib Razak was charged with corruption for his role in the affair. Swiss authorities are now investigating six people for their alleged involvement in the multi-billion dollar 1MDB scandal and two Swiss banks – Falcon Private Bank and BSI SA – remain under suspicion, Swiss Attorney General Michael Lauber told reporters Tuesday in Putrajaya following a meeting with his Malaysian counterpart Tommy Thomas.
What we've been reading
This is what caught our eye over the last 24 hours.
And finally, here's what David's interested in this morning
It was rather timely to have former U.S. Treasury Secretary Jack Lew on Bloomberg Television on Tuesday. For one, it's rare to get the viewpoint of someone who has been directly involved in most of the key issues currently facing global business and markets. He had some compelling views on the U.S.-China trade tussle, which he feels is a grave matter that's exacerbated as much by the approach to the issues as it is by the issues themselves. It creates, he says, confusing market signals because it forces prices higher, which may incentivize the Fed to tighten even when the economics don't call for it. He expressed concern over this administration's possible lack of fiscal space if the need to spend and avert a slowdown comes along.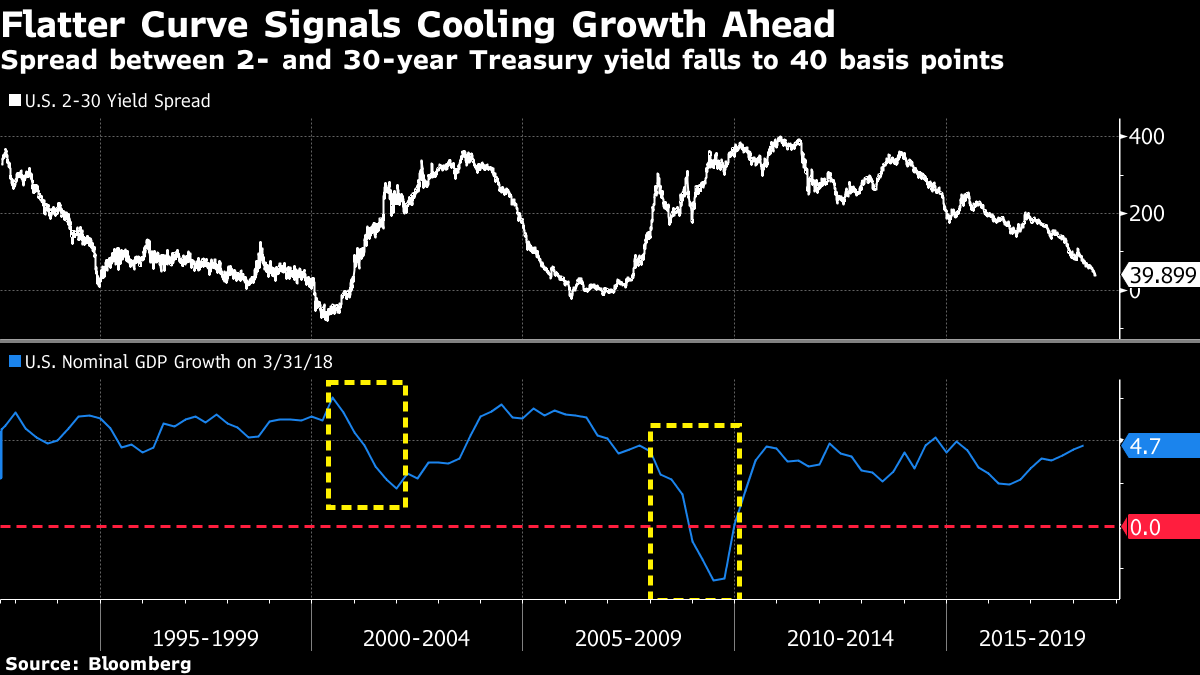 We also discussed issues surrounding the flattest treasury yield curve in a decade, from the gloom it portends to how it could influence debt auction schedules. He brushed off concerns about whether bond markets have the appetite and capacity to absorb what some predict to be a trillion dollars of debt sales this year, plus topics including the nuances of today's labor market, America's strong-dollar policy, and China's evolving currency regime.