The ECB announces an end to bond buying, the BOJ is likely to stay the course, and China's economy is suddenly hitting headwinds. Here are some of the things people in markets are talking about.
End of an Era for ECB
Mario Draghi said the euro-area economy is strong enough to overcome increased risk, justifying the European Central Bank's decision to halt bond purchases and close an extraordinary chapter in a decade-long struggle with financial crises and recession. Policymakers will phase out the economic stimulus by the end of the year, in what Draghi described as a unanimous decision. Officials are betting that the euro-area economy can ride out an apparent slowdown amid risks including U.S. trade tariffs and nervousness that Italy's populist government will spark another crisis. The euro fell after the central bank also pledged to keep interest rates unchanged, at current record lows, at least through the summer of 2019, a longer period than investors had priced in.
BOJ to Stay the Course
No change at the Bank of Japan. That's the unanimous view of economists for the two-day policy meeting that concludes in Tokyo on Friday, leaving the BOJ increasingly out of step with the U.S. Federal Reserve and the European Central Bank. With Governor Haruhiko Kuroda set to stick with his current interest-rate and asset-purchase settings, BOJ watchers will focus on how he explains the recent weakening of inflation in Japan. The contrast with other economies is particularly stark this week, after the Fed raised rates on Wednesday and the ECB on Thursday said it would halt its bond-buying program by year-end. The divergence in policy may damp the yen, helping Japan's exporters and assisting the BOJ's inflation campaign by increasing import costs.
China's Outlook Cools
China's economy is suddenly falling short of expectations. May data for industrial output, retail sales and investment all came in beneath economists' forecasts. The People's Bank of China kept the cost of reverse-repurchase agreements steady, defying predictions it would track the Fed's hike. Investors are becoming cautious about the outlook for global growth as trade tensions with the U.S. escalate, leery of what had been the strongest global upswing since 2011. That doubt is set to fester after U.S. President Donald Trump said on Wednesday that he'll confront China "very strongly" over commerce in coming weeks. His administration is scheduled to announce a new list of duties on Friday.
ZTE Showdown Looms in Washington
Republican senators pushing to keep stiff sanctions on China's ZTE Corp. dug in for a potential showdown with the White House. Senators Tom Cotton, an Arkansas Republican, and Chris Van Hollen, a Maryland Democrat, said Thursday there was no plan to alter their amendment to an annual defense authorization bill to restore restrictions on ZTE that Trump had lifted. The administration is counting on making changes to the ZTE language once the House and Senate begin negotiations to merge their versions of the bill. Republican Lindsey Graham is among the lawmakers hoping to find a compromise in a meeting with the president next week.
Kim Keeping Nukes?
North Korean leader Kim Jong Un hasn't given up a single nuclear weapon, but that didn't stop Trump from reassuring Americans on Twitter that they should "sleep well" because the threat from Pyongyang is over. That's leading some analysts to believe the president might be willing to live with a nuclear-armed North Korea, just as the U.S. has learned to live with Pakistan and India. Despite tough U.S. talk before the Trump-Kim summit about "complete" and "verifiable" denuclearization, the vaguely worded one-and-a-half-page document they signed essentially represents "tacit approval" of North Korea's nuclear program, said Jeffrey Lewis, director of the East Asia Nonproliferation Program at the Middlebury Institute of International Studies. Secretary of State Mike Pompeo, pushing back against North Korean suggestions that penalties would soon be relaxed, said the U.S., China, South Korea and Japan agree that sanctions imposed on North Korea won't be lifted until Kim's regime can show complete disarmament.
What we've been reading
This is what caught our eye over the last 24 hours.
And finally, here's what David's interested in this morning
One of the key developments to track from (hopefully) improving relations in and around the Korean Peninsula is what happens between South Korea and China. The South Koreans really upset the Chinese last year by installing the U.S. THAAD missile system as a deterrent to any ballistic missiles fired from the North. I won't get into the complicated politics but suffice to say the Chinese didn't quite buy that explanation. Relations soured and that has discouraged some Chinese tourists from visiting. The chart below shows the flow of Chinese tourists to South Korea really took a hit. The monthly average fell from about 650,000 in 2016 to 360,000 in 2017.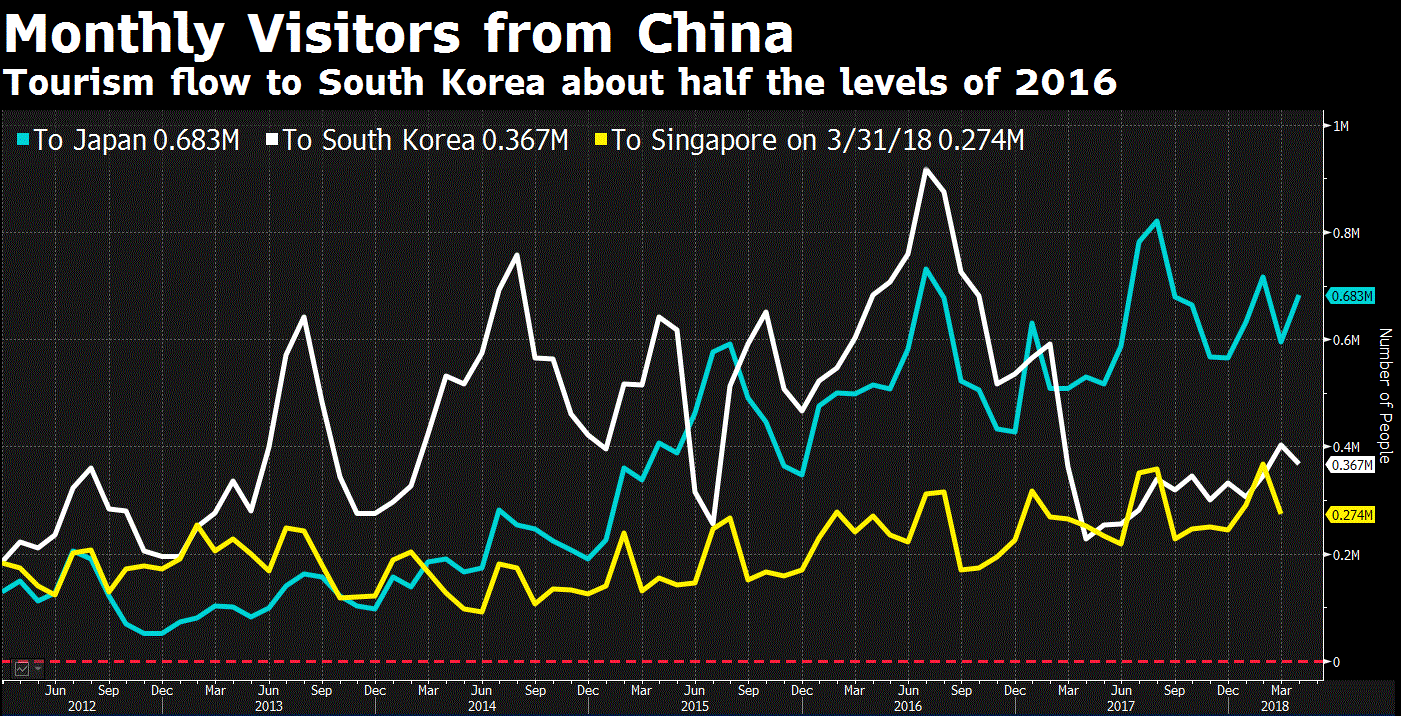 The main beneficiary was Japan with its fresh seafood markets, ski and hot spring towns, quirky electronics stores and cosmetics retailers. It was already becoming a top destination, but the Seoul-Beijing spat obviously gave Japan's tourism engine a boost. There are few more potent short-term stock market catalysts than Beijing recommending where its citizens should and should not go. And to Mark Konyn, CIO of the AIA Group, the potential removal of the THAAD system, if it does happen at some point, might mean Beijing telling multitudes of Chinese travelers 大家都可以去韩国吧 or "yep no problem, go". And Mark estimates that could add as much as 0.5 percent to South Korean GDP.