China hits back against U.S. tariffs. The cryptocurrency selloff plumbs new depths. And crude's slump helps snap the S&P 500's winning streak. Here are some of the things people in markets are talking about.
Tit-for-Tat Tariffs
China confirmed that it will impose 25 percent tariffs on an additional $16 billion worth of imports from the U.S. from Aug. 23, matching an earlier move from Washington. The U.S. decision to levy 25 percent tariffs on Chinese goods is "very unreasonable," and China will have to retaliate to protect its rightful interests and the multilateral trading system, China's Ministry of Commerce said in a statement. The tit-for-tat protectionist measures are poised to surge even higher. Should the U.S. proceed with tariffs on a further $200 billion in imports, China's ready to slap duties on an additional $60 billion of American goods.
Crypto Crash Hits New Low
The 2018 selloff in cryptocurrencies plumbed new depths on Wednesday after the U.S. Securities and Exchange Commission dented enthusiasts' hopes for a VanEck exchange-traded fund backed by Bitcoin. A broad selloff in coins of all sizes reduced the market value of virtual currencies tracked by Coinmarketcap.com to about $230 billion, the lowest level since November. Digital assets have now lost about $600 billion since crypto-mania peaked in January — more than the market value of all but the four biggest companies in the S&P 500 Index. The SEC postponed its decision on whether to approve the Bitcoin ETF, dealing a blow to bulls who had bet a green light from the regulator would help sustain last month's tenuous rally.
Musk Talked With SoftBank
Elon Musk and Masayoshi Son held talks last year about SoftBank investing in Tesla, including potentially taking the electric car maker private, according to two people with knowledge of the discussions. Son and Musk met in April 2017 to discuss an investment in Tesla, the people said. The talks touched on taking Tesla private, but failed to progress due to disagreements over ownership. There are no active talks between the companies now, said the people, who asked not to be identified discussing private deliberations. Separately, the SEC is said to have made inquiries to Tesla over the truthfulness of Musk's now infamous tweet on Tuesday, Dow Jones reported.
Crude Crumbles
Crude tumbled to a nearly seven-week low as the escalating trade dispute between the world's biggest economies overshadowed a decline in U.S. stockpiles. Futures declined more than 3 percent on Wednesday in New York, the biggest drop in more than two weeks. The S&P 500 Index turned lower in the final minutes of trading to end a four-day advance. Still, the gauge sits just half a percentage point shy of its all-time record. Treasuries rose as investors scooped up a record $26 billion 10-year auction, showing that swelling U.S. government issuance has yet to put pressure on the nation's long-term borrowing costs. The kiwi fell in early Thursday trading after the nation's central bank held its key interest rate at a record low and pushed back expectations for future hikes.
New Russia Sanctions
The U.S. announced new sanctions on Russia Wednesday, saying it's made a final determination that Vladimir Putin's government was responsible for the March 4 nerve-agent attack on a former double agent and his daughter in the U.K. The sanctions added to pressure on the ruble that began earlier in the day, when Russian media published the full text of a separate U.S. bill seeking "crushing sanctions" for election meddling. The new penalties will limit exports to Russia of U.S. goods and technology considered sensitive on national security grounds, according to a State Department official who briefed reporters on condition of anonymity. The official said the action could block hundreds of millions of dollars in exports.
What we've been reading
This is what caught our eye over the last 24 hours.
And finally, here's what David's interested in this morning
Today is massive for the Philippines. In a couple of hours, the GDP report is expected to show the 23rd quarter of 6 percent-plus growth out of the last 26. The economy is now 50 percent bigger than in 2012. But inflation, currently at more than double the last half-decade average, is a problem. Rightly or wrongly, markets perceived policy makers as being behind the curve. And a series of pulled bond auctions several weeks back was perhaps symptomatic of that. It's true inflation is a function of growth, but it becomes a threat if that same growth is predicated on consumption like in the Philippines. A couple of days back, the government flagged that costs at several infrastructure projects had gone up by an average of 50 percent, citing the issue above, and the weak peso (which, by the way, hasn't exactly helped exports since shipments are down for six straight months). Even the government's touted "Build, Build, Build" infrastructure upgrade program has become part of the conversation.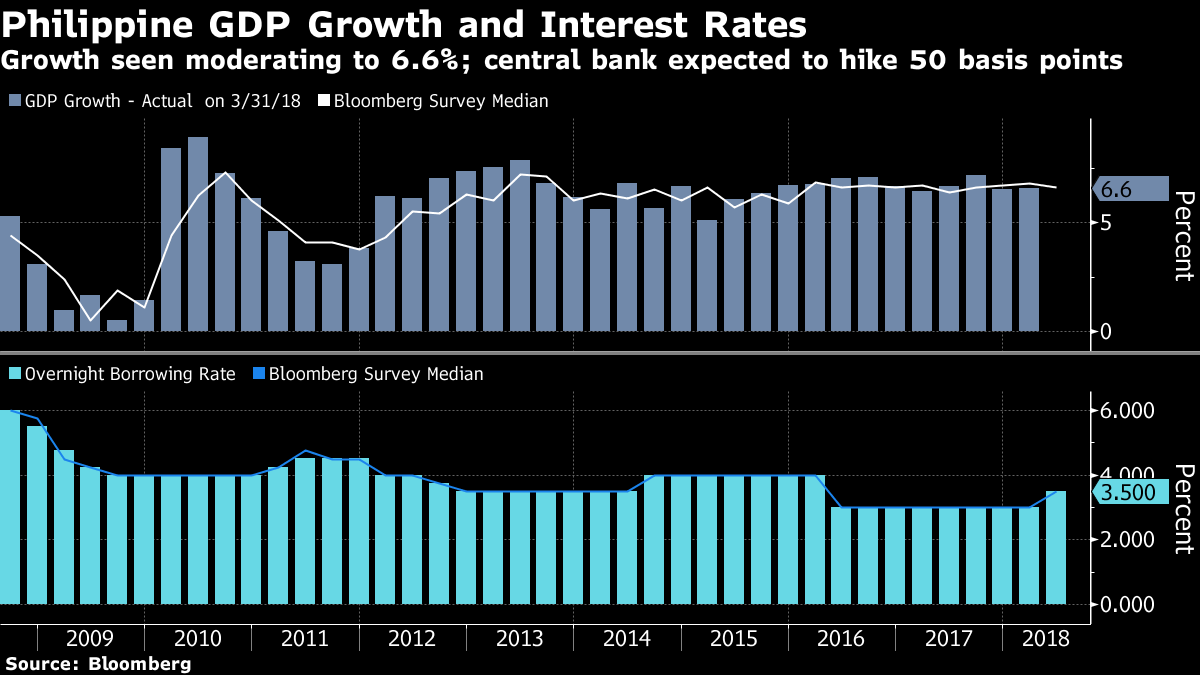 Today's rate decision, INCLUDING the tone of the statement that follows, is arguably the central bank's most important in as long as I can remember. BSP Governor Espenilla has promised decisive action, so the hike is basically a given. From my conversations and our Bloomberg survey, we need to see a 50-basis point rate hike accompanied by a still hawkish stance. Anything less may likely be disappointing. The GDP report will likely tell us the economy can absorb the drag. The stage is set for the Bangko Sentral to deliver something big.