Beijing officials make another push to stabilize the yuan. The U.S. slaps tariffs on an additional $16 billion of Chinese goods. And Elon Musk shocks investors with a 61-character tweet. Here are some of the things people in markets are talking about.
PBOC Moves to Stabilize the Yuan
The People's Bank of China urged some lenders to prevent any "herd behavior" and momentum-chasing moves in the currency market, according to people familiar with the matter. The central bank has plenty of tools to stabilize the market, will keep the yuan flexible and allow it to move in both directions, a PBOC official told the lenders in a meeting on Monday morning, according to the people. Any pressure building on the yuan will need to be released in a timely manner and China will not work against market forces, the official told the lenders, according to the people. It's the latest bid by the central bank to stabilize the currency, which has tumbled more than 6 percent in the last three months.
Tesla's Twitter Bombshell
Tesla CEO Elon Musk shocked investors Tuesday, saying on Twitter that he's considering taking the auto maker private in a radical step that would ease pressure on the money-losing automaker. "Am considering taking Tesla private at $420. Funding secured," he wrote. Shares soared as much as 13 percent. It followed news that Saudi Arabia's sovereign wealth fund had built a less than 5 percent stake in Tesla worth about $2 billion. And yet it also left many questions unanswered, namely how Musk — who owns almost 20 percent of the company — would be able to come up with the cash necessary to complete the transaction. The buyout is "highly unlikely," said Joel Levington, analyst at Bloomberg Intelligence. "Funding $50 billion plus for a negative free cash flow business would be difficult, if not extraordinary."
Washington Keeps China Tariffs Coming
The U.S. said late Tuesday that it will begin imposing 25 percent duties on an additional $16 billion in Chinese imports in two weeks, escalating a trade war between the world's two biggest economies. Customs will begin collecting the duties on 279 product lines as of Aug. 23, the U.S. Trade Representative's Office said in an emailed statement. It will be the second time the U.S. slaps duties on Chinese goods in about a month, despite complaints by American companies that such moves will raise business costs and eventually consumer prices. The U.S. levied 25 percent duties on $34 billion in Chinese goods on July 6, prompting swift in-kind retaliation from Beijing. China has vowed to strike back again, dollar-for-dollar, on the $16 billion tranche.
Earnings, Growth Optimism Buoys U.S. Stocks
U.S. stocks edged higher, pushing their winning streak to four days amid optimism U.S. growth can continue. The S&P 500 Index closed at the highest level since its Jan. 26 record. Gains faded in the final half hour of trading as investors moved out of rate-sensitive shares amid a rise in Treasury yields. Industrial and energy stocks paced gains. The Cboe Volatility Index slid below 11 for the first time since May. The Tesla news dominated an otherwise quiet afternoon session on Wall Street. It overshadowed a strong end phase of an earnings season that's seen most major U.S. companies surprise to the upside.
Turkey's Woes Send Yields to Record
Desperate measures are in the air in Turkey: trading rooms are awash with talk of a bailout by the International Monetary Fund and potential capital controls. But there's a vacuum at the core of economic policy making. The central bank and government have remained largely silent as the currency plummeted to record lows and the U.S. imposed sanctions and threatened more. The lira rebounded after falling by the most in a decade on Monday, getting a lift from news that Turkish officials were headed to Washington for talks. The yield on 10-year bonds surged above 20 percent to an all-time high. Capital controls have "become more than a tail-risk scenario now as the authorities show no signs of reverting to more orthodox policies," said Shamaila Khan, AllianceBernstein's director of emerging-market debt in New York.
What we've been reading
This is what caught our eye over the last 24 hours.
And finally, here's what David's interested in this morning
China releases July trade data this morning. This will be the first set of numbers since tariffs imposed by Beijing and Washington became effective earlier in the month. I'll be less interested in the overall figures and more attuned to any specific changes in trade flows between the world's two largest economies. The graphic below provides a snapshot of those flows over the last 17 years, according to Chinese customs data. The top panel shows monthly exports and year-on-year changes. The bottom panel shows the same figures for imports.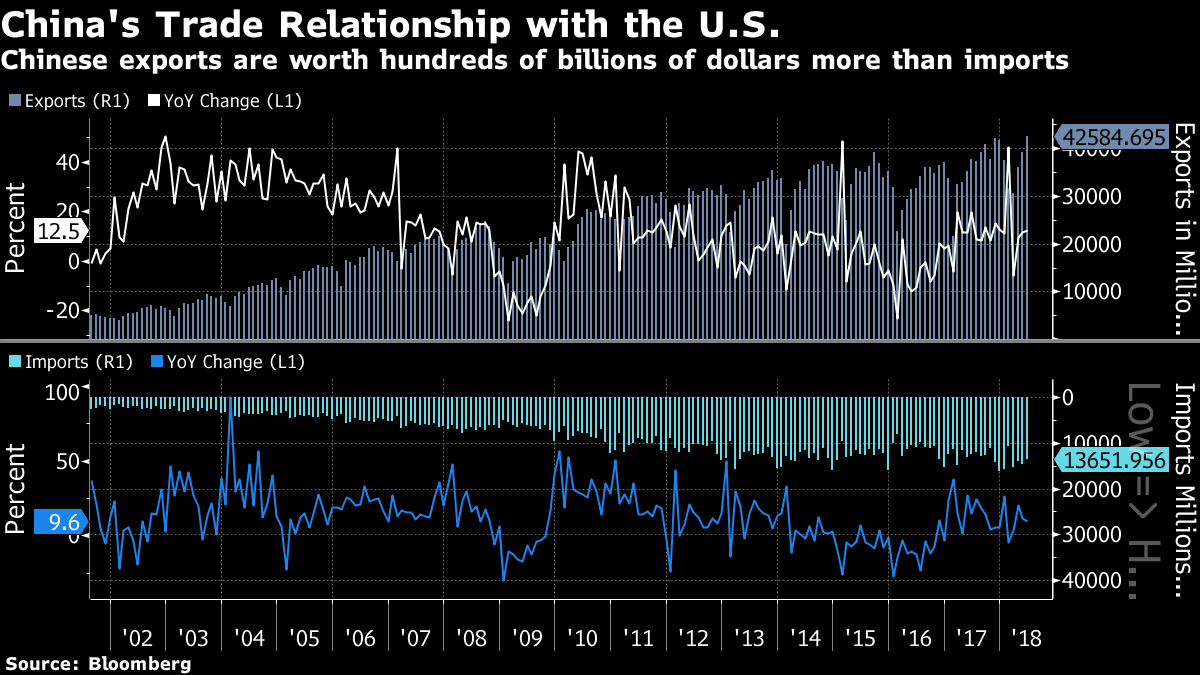 One thing you'll notice quite clearly is the imbalance. It's easy to understand how this has become a political issue. Virtually everyone can agree there are imbalances that need to be tackled; it's the hardline, confrontational approach from the U.S. that's drawing criticism. I asked former president of the European Commission Jose Manuel Barroso about it on Monday. Watch his response here. And, obviously, watch for the numbers after 10:00 a.m. Hong Kong time to get a sense of the initial damage.