Traders weigh U.S. tax reform developments, India doles out incentives, and analysts are all in on Tencent. Here are some of the things people in markets are talking about.
U.S. Tax Tumult
(Bloomberg)-Two influential Republican senators — Rob Portman of Ohio, one of the chamber's main tax writers, along with Orrin Hatch, chairman of the tax-writing Senate Finance Committee — said their preference is to repeal the corporate AMT. A last-minute change that U.S. senators made to their tax bill before passing it early Saturday morning kept the AMT, which would result in higher-than-intended taxes for technology firms and other corporations, tax experts say.
India Incentives
India announced incentives worth 84.5 billion rupees ($131 million) as it seeks to double overseas shipments by 2020 amid slowing trade as well as help exporters tide over a chaotic roll out of the new sales tax. The increased benefits for exporters in businesses including textiles and farms, which tend to be labor intensive, is in addition to incentives worth 250 billion rupees already available to traders. The government said it has refunded 4.51 billion rupees for July to exporters who've been complaining of delays and received more than 10,000 applications for export refunds after the implementation of goods and service tax. In October, exports fell for the first time in 15 months.
Tencent Dip
Tencent might be in a bit of slump, but analysts have never been more bullish. The Chinese tech giant fell for the fourth time in five sessions Tuesday, following a $55 billion wipe out in market capitalization from its Nov. 21 high through Friday. The slump has largely been due to a rout in U.S. technology stocks, as well as global investors cashing in on some of the year's best equity performers. The fall has now widened the gap between the current share price and analyst price targets to a whopping 19 percent. Of the 40 stock watchers surveyed by Bloomberg, almost all of them have a buy rating.
Markets Fall From Highs
Most U.S. stocks fell as a rebound in tech shares faded in afternoon trading, with the tech-heavy Nasdaq 100 Index erasing gains of as much as 1.2 percent as investors weighed the latest developments in efforts to overhaul the U.S. tax code. The dollar edged higher and 10-year Treasury yields slid to 2.35 percent. Copper's saw its biggest plunge in almost three years, which bled into mining shares and made Chile's peso among the worst performing currencies in emerging markets.
Coming Up…
The Korean won's rally toward its highs of 2014 and 2015 looks to be gathering pace, while the bleeding may have stopped for Australia's yield premium versus the U.S. after it bounced off a more-than-16-year low reached late November. Australia will report third quarter GDP as investors and analysts look to see if they can discern the gradually emerging strength the RBA is calling for, while elsewhere in Asia the Reserve Bank of India is expected to shrug off criticism from one of Prime Minister Narendra Modi's advisers and hold interest rates unchanged. In Brussels, the European Commission College of Commissioners discusses Brexit and will likely make its recommendation on whether sufficient progress has been made to move negotiations onto the future relationship. The European day also brings data on German factory orders and Swiss inflation before the U.S. session gets the non-farm payroll anticipation going with the ADP print.
And finally, here's what Chris is interested in this morning
Several tail risks for global markets have spiked and faded over the past few years. There was the 2015-16 China hard-landing scare. Then we had the populist backlash against free trade and migration that revived questions about Europe's cohesion. President Donald Trump's surprise election win ushered in fears of a protectionist agenda in the world's No. 1 economy. None of those have panned out. But a new key risk is looming that might pose more than an outside chance of actually happening. It's inflation.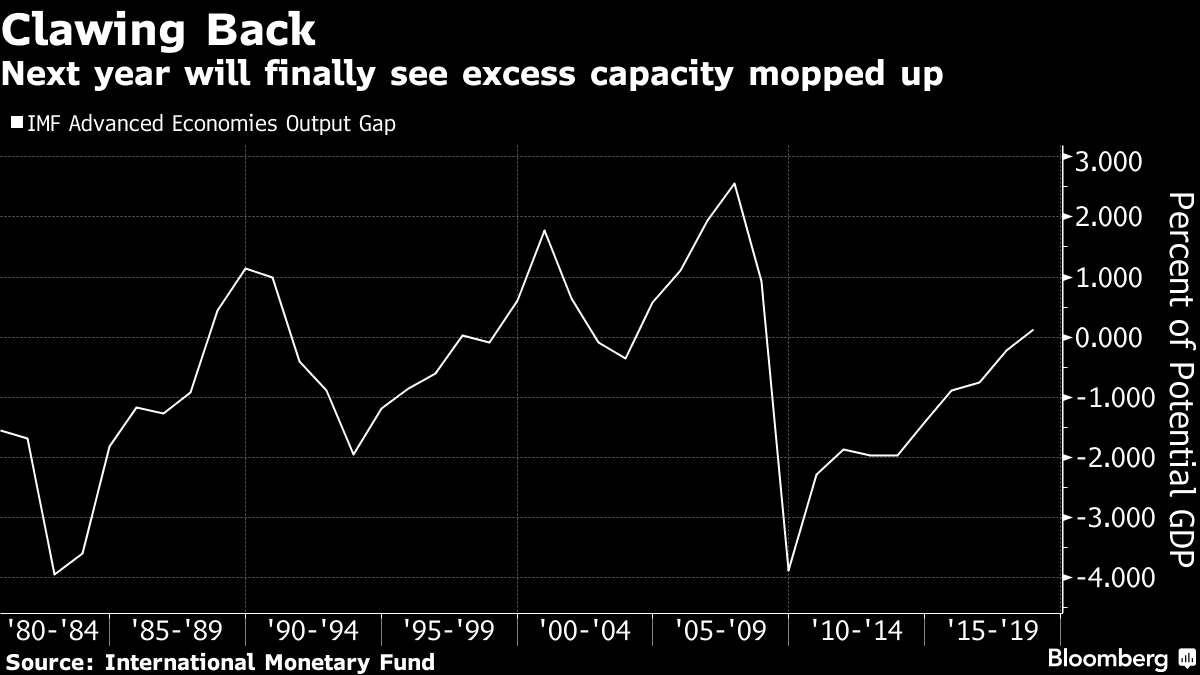 The synchronous global economic upturn has been gradually burning off the excess capacity created by the financial crisis. Unemployment rates have been coming down round the world. Years of limited capital spending mean businesses have less plant, equipment and software available to meet rising demand. In economists' parlance, the output gap is closing. The IMF's measure for advanced economies shows that in 2018 output will go beyond potential for the first time in a decade. That spells inflation — something markets aren't prepared for, looking at 10-year Treasuries at 2.40 percent. It could be a wild ride.