Fed signals December hike, a decade high in the Hang Seng, and Singapore GDP on tap. Here are some of the things people in markets are talking about.
Fed Moving Ahead
(Bloomberg)-Minutes of the Federal Reserve's meeting earlier this month were released in the U.S. Officials saw an interest-rate increase in the near term despite divisions over the policy path given tepid inflation. "Many participants thought that another increase in the target range for the federal funds rate was likely to be warranted in the near term if incoming information left the medium-term outlook broadly unchanged," according to the minutes. Policy makers, who held rates steady at the Nov. 1 meeting, are expected to hike next month as they continue with gradual tightening. Unemployment is at a 16-year low, although inflation remains well beneath their 2 percent target.
Hang Seng Hits Decade High
Hong Kong's benchmark gauge for stocks moved past the 30,000 level for the first time in a decade, led by rising shares in energy producers and Chinese developers. The top performers this month included Tencent Holdings Ltd., which has surged 22 percent, and Ping An Insurance Group Co. has jumped 23 percent amid optimism over its digital expansion. There doesn't appear to be much worry about the run ending in the near future, with Goldman Sachs Group Inc. seeing the gauge climbing to 32,000 by the end of next year.
Tepid Trading
U.S. stocks were little changed amid light trading, holding steady after the release of the Fed's minutes. The details acted as a drag on the dollar and bond yields though, which were already being weighed down ahead of the U.S. Thanksgiving holiday. Treasuries ended the U.S. session near highs, with yields lower by 1.5-5.5 basis points across the curve as the belly led gains. The dollar slumped as much as 0.8 percent, its steepest decline since Sept. 7.
Singapore Data Deluge
Singapore GDP and CPI data highlight the Asia data calendar. Analysts surveyed by Bloomberg expect year-over-year growth to pick up slightly, rising to 5.0 percent year-over-year compared to 4.6 percent in the previous report. Consumer prices are expected to rise 0.5 percent from last month's 0.4 percent. Singapore's inflation in the nine months through September averaged 0.6 pear year-over-year, compared with -0.5 percent for 2016. Oil prices have risen and the cost of accommodation may start to increase, which could cause a bump, but it's questionable how big of an impact the rise will have.
Looking Ahead
Asian equity futures are largely in the red after a plodding session stateside. Thanksgiving in the U.S. means Treasuries will be closed all day. Japan also takes time off for Labor Thanksgiving Day. In addition to Singapore third quarter GDP and October CPI, Germany details final GDP figures for the quarter and the U.K. issues initial GDP data, while preliminary PMIs are scheduled for France, Germany and the eurozone. SNB president Jordan is set to speak in Basel, while the ECB will release minutes from its monetary policy meeting before Americans sit down to consume an estimated 46 million turkeys.
And finally, here's what David's interested in this morning
This unrelenting move up across Asian tech shares has ironically resurrected an old problem for fund managers. How do you build a car to outpace the benchmark if you can't copy what's under the hood? So we're talking allocation caps to single stocks here. Take Tencent. Regulations limit fund exposure to 10 percent. The stock has a 16.5 percent weighting on MSCI China. With that disconnect, it's a massive ask. The kitchen analogy is trying to copy Gordon Ramsey's steak recipe using a cheaper cut of beef, old rosemary, stale butter and without the $500 spatula and the $1,000 frying pan.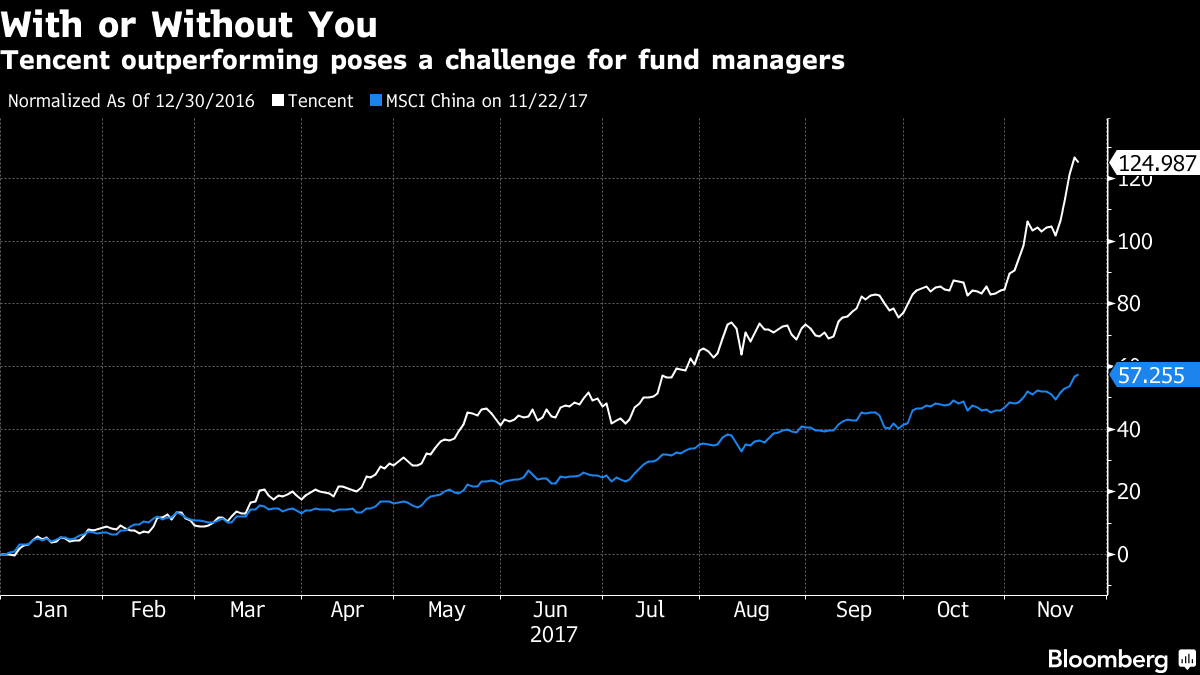 Here's a fantastic write-up from my colleagues from September. Every bit of it is applicable now if not more. As one portfolio manager with UBS Asset Management put it, "it would be a real headache for us if Tencent shares continue to surge, as it'll be difficult to find better bets." The stock has been up 33 percent since that quote 10 weeks ago. Plus there's been new money coming from China where I assume many funds are not yet fully allocated. And the rally doesn't look like it's going to end just yet. It's a problem if it keeps going up. It's obviously a problem if it falls. It's even a problem debating whether to get in at these prices for fear of missing out!