Bitcoin euphoria reaches fever pitch, South Africa debt cut to junk, and a jam-packed week for data from the world's largest economies. Here are some of the things people in markets are talking about.
Bitcoin Soldiers On
(Bloomberg)-There is no end in sight to the bitcoin rally. The largest cryptocurrency soared through $9,000 over the weekend for the first time after just six days earlier breaching $8,000 for an eye-watering 850 percent surge this year. The market seems to be largely ignoring warnings of an asset bubble as bitcoin draws greater mainstream traction and comments from Wall Street executives and venture capitalists. In a sign of the virtual's currency increasing mainstream appeal, CME Group Inc. has said it plans to start offering futures contracts for bitcoin, which could begin trading in December. For his part, hedge fund manager Mike Novogratz, who is starting a $500 million fund to invest in cryptocurrencies, is tipping $10,000 to end the year.  The total market cap of digital currencies now sits north of $290 billion, according to Coinmarketcap.com's website.
Cut to Junk
South African assets will be the main focus of emerging-markets investors.  S&P Global Ratings cut the nation's local-currency debt score to junk on Friday, while Moody's Investors Service also threatened to slash its ranking to the same level, raising the risk of a selloff from global indexes. The reduction by S&P "reflects our opinion of further deterioration of South Africa's economic outlook and its public finances," the company said in a statement. If Moody's was to follow suit and also downgrade the local-currency rating, rand debt would fall out of gauges including Citigroup Inc.'s World Government Bond Index. Domestic bonds and the rand, among the worst performers in emerging markets this year, are likely to decline on Monday when they trade for the first time since the cut.
Coming Up…
U.S. third-quarter economic growth was probably a touch stronger than initially estimated on firmer construction spending and business investment.  Still in the U.S.,  household spending is forecast to have increased at a slower pace in October after a hurricane-related surge a month earlier, while growth at manufacturers probably remained robust in November. Central bankers will take center stage: Federal Reserve Chair Janet Yellen testifies before the congressional Joint Economic Committee in Washington, and the confirmation hearing for her nominated successor, Jerome Powell, begins. New York Fed President William Dudley speaks in New York on Monday. Their words will be scrutinized for any insights on inflation amid a flattening yield curve. In Asia, Bank of Korea could increase the benchmark interest rate when it announces its latest policy decision at about 10:00 local time in Seoul on Thursday. Also on Thursday, South Korea will report on October industrial output, Japan will update on its October industrial output and Hong Kong will release October retail sales.  China's PMI on Friday will be parsed as the government's deleveraging push is starting to bite, raising concerns of an economic slowdown.
Futures Tip Gains
Futures signal a firmer start to equity trading as Asia kick starts the week. Japan's Nikkei 225 contracts were up as were those on Hong Kong's Hang Seng Index, while futures on Australia's S&P/ASX 200 were little changed. The S&P 500 vaulted to yet another historic high close on Friday post the Thanksgiving holiday, which saw consumers turn out in droves to snap up "Black Friday" bargains, buoying stocks of Amazon.com Inc. and Macy's Inc. The MSCI Asia Pacific Index was up for its seventh week in eight as stocks looks set to end 2017 on a high note amid strong corporate earnings and synchronized global economic growth.
Pakistan Clashes
Pakistan's government sent in paramilitary forces into the capital Islamabad to break up protesters from a right-wing religious party, who have held the capital city under siege for three weeks amid escalating violence before elections next year. Eight people, including two policemen, were killed and several more injured in clashes on Saturday. Investors will be watching the developments closely as the nation is looking to push through a crucial overseas bond sale to help finance a widening current account deficit and shore up dwindling foreign reserves.
And finally, here's what David's interested in this morning
Best to start with something light and positive this Monday. I watched World War Zagain. There's a scene where Brad Pitt's character is in Jerusalem, asking the guy in charge how they've managed to keep the zombies out. The guy responds by saying they've designated someone whose sole job is to question every assumption and disagree with group think. So what's the relevance of zombie movies to markets? Well, since the rally in Japan kicked off over two months ago, not a single analyst has come on
Bloomberg TV with anything negative to say about Japanese equities. In fact, virtually everyone has recommended staying long. Not to say they're wrong, but whenever everyone shares this sort of unbridled collective optimism, that's when weakness in the system gets overlooked and before anyone has noticed, the zombies can get within striking distance.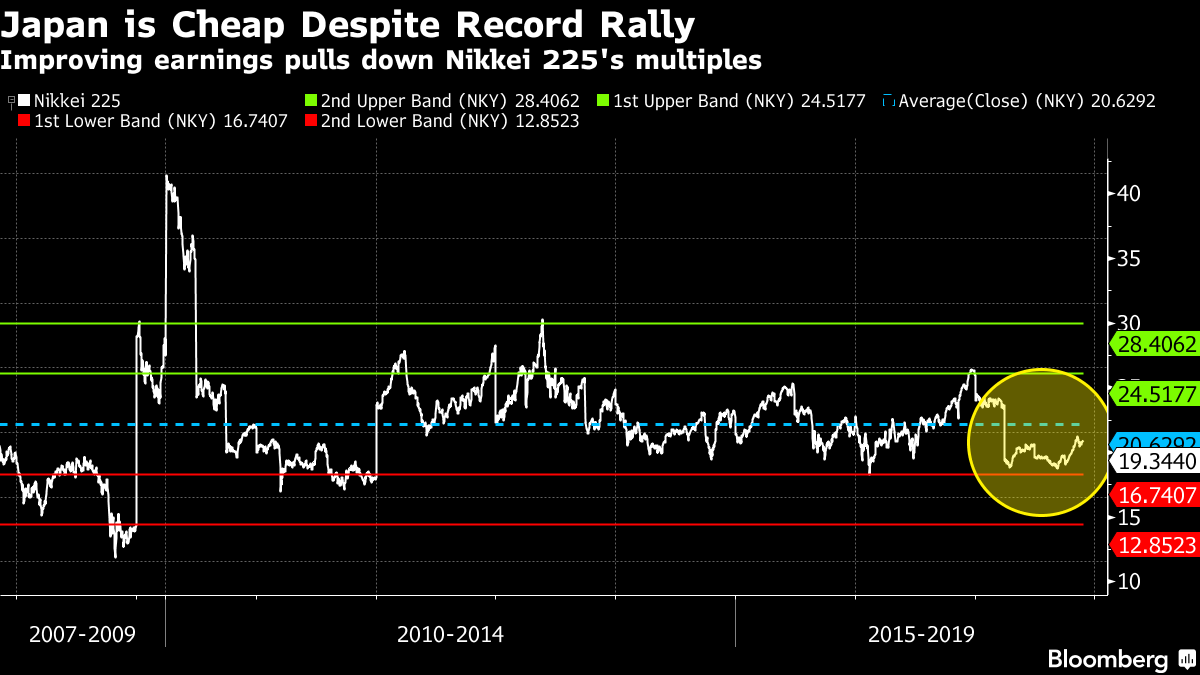 I asked Cliff Tan of Bank of Tokyo-Mitsubishi UFJ last Friday whether he could come up with a single reason NOT to be long Japan. He paused for a moment and said no. The chart above shows the market is actually much cheaper than it was at the start of this year despite the 20 percent rally. Have a great week.