Bitcoin enters a bear market (really!), the U.S. government averts a shutdown — for now, and India's bond rout is just getting started. Here are some of the things people in markets are talking about.
(Bloomberg)-Bitcoin tumbled below $15,000 Thursday in U.S. trading, technically entering a bear market after sliding more than 20 percent from its record high. Still stocks that manage to tie themselves in some way to the cryptocurrency or blockchain continued to surge. Long Island Iced Tea Corp. (seriously!) shares rose as much as 289 percent after the unprofitable company rebranded itself Long Blockchain Corp. It's the latest in a near-daily phenomenon sweeping the stock market, where obscure microcap companies reorient to focus on some aspect of the mania sparked by bitcoin's almost 1,500 percent rally this year. But if you thought that was a sign Wall Street would never take the virtual currency seriously, think again. Goldman Sachs is setting up a trading deskto make markets in digital currencies, according to people with knowledge of the strategy. The bank aims to get the business running by the end of June, if not earlier, two of the people said. Another said it's still trying to work out security issues as well as how it would hold, or custody, the assets.
U.S. Government Gambit
Now that tax reform is largely behind us, all the talk in Washington is shifting to the looming government shutdown. The House passed yet another short-term extension of federal funding to keep the government running for three more weeks, while putting off a raft of policy fights. The bill still has to clear the Senate before the shutdown deadline at the end of the day on Friday. The measure, which passed 231-188, would maintain current levels of spending through Jan. 19 and provide $4.5 billion in emergency funding for missile defense work as well as other Pentagon expenses. It also provides money for several health programs and a funding bridge of $2.85 billion for the Children's Health Insurance Program.
India's Bond Rout Isn't Slowing Down
Indian bonds are sliding at the fastest pace in almost two decades, and it doesn't looklike the rout will be ending any time soon. The yield on benchmark 10-year notes, which are up for a fifth month in December, will rise further by the end of March, according to 10 of 15 respondents in a Bloomberg survey. Some see it going from 7.25 percent on Thursday to as high as 7.50 percent, as a potentially wider fiscal deficit risks more debt sales by the government and elevated oil prices threaten to fan already-rising inflation. The yield has surged more than 70 basis points since the end of July. If that wasn't enough, this week brought another headwind. A slim poll victory for Prime Minister Narendra Modi's ruling Bharatiya Janata Party in his home state of Gujarat stoked speculation that his administration will resort to populist measures to woo voters ahead of the 2019 general election.
Stocks on the Upswing
Equities in the U.S. rose on Thursday following the passage of the sweeping tax bill in Congress, while Treasuries stopped a week-long slide as economic growth for the third quarter was revised lower. The energy and financial sectors paced stocks. In Europe, core European bond yields rose for a fourth session as traders tidied up positions ahead of the Christmas holiday, while equities steadied after two days of declines. The dollar was mixed versus its major peers as gains against the Mexico peso were offset by losses against the loonie. The Canadian currency gained as much as 1 percent versus the greenback after release of robust economic data, while the peso fell more than 1.5% as a fresh political scandal emerged.
Coming Up…
Friday will give those Asian traders still at their desks a chance to consider Taiwan unemployment and industrial output. Europe will get final GDP data for Holland, Denmark, the U.K. and France, PPI for Finland, France, Sweden and Spain, along with German import prices, Finnish unemployment, French consumer spending, and Italian manufacturing confidence and industrial orders. The U.S. gets figures on personal income and spending, and the PCE deflator, along with durable goods orders, new home sales and University of Michigan consumer sentiment.
And finally, here's what Chris's interested in this morning
Bank of Japan Governor Haruhiko Kuroda has repeatedly shot down any thought that the BOJ is contemplating a fine tuning in its stimulus program. That speculation had climbed after remarks he made in November about the theory that interest rates can sometimes get so low that they are counterproductive — making banks less eager to lend. One theory is that he was aiming those remarks at those who advocate even greater stimulus, including one of the BOJ's current board members. Yet it's worth remembering that Kuroda has a long background in communicating to markets, making it likely that indeed he was telegraphing that the BOJ could tweak its policy at some point down the road.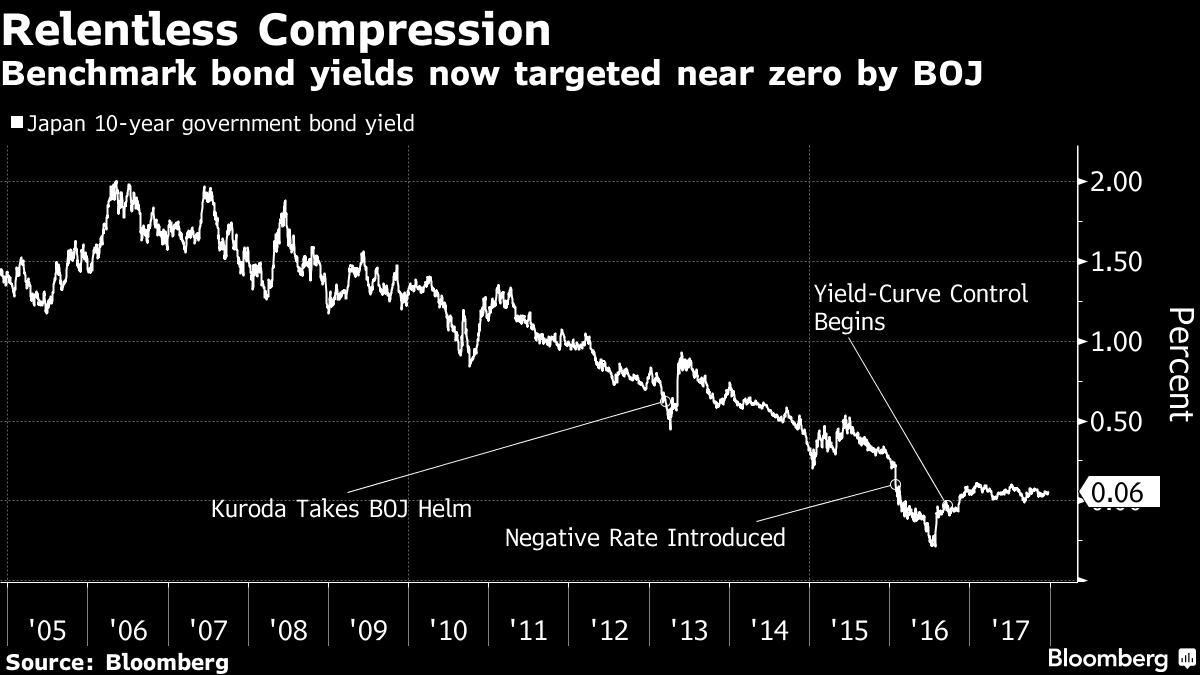 Kuroda served as vice finance minister for international affairs in the late 1990s to early 2000s, a time when Japan was intervening in the currency market. The job involved constant communication on the ministry's thoughts about the yen's value. With those years of experience, he knows how his remarks are taken. On Thursday, we had another clue that BOJ fine tuning could be in store. Kuroda at a press conference said that rates could be raised if it became certain that stable 2 percent inflation will be reached. In other words, before the target is actually hit. Look for traders to start betting on the timing of a yield-curve target hike in 2018.